Check out these amazing Topless Waiters Testimonials
"Hello, I just want to say thanks for an amazing hens party, It was a lot of fun. Our bride was very pleased and loved the life drawing, and all the guests enjoyed the entertainment. Thanks very much, you guys truly have the best hunks in the business and combining it with the life drawing is such a great idea, making the night a success!!"
— Ebony H
"I just wanted to say what a fantastic hunk you have in Mike. He was our helpful hunk at my friendís Hens day on March 20 and he really helped make it a great day. He was very professional, a great sport, lots of fun and an absolute hit with all the girls. Iíve booked topless waiters before (through another company) for another hens and, to be honest, I was hesitant to do so again as, while they were good looking and sweet, they just didnít have the confidence or personality to make it work and it ended up being more awkward than anything else. Mike's looks were a bonus because it was everything else he brought to the table that made it work so well. And, even with that apron, the comment from the girls was not about his physical assets but about how he was obviously smart with loads of personality. Of course the apron still went down a treat! I wouldnít hesitate to book him again and recommend him to friends. Thanks,"
–Alex S
"Our hens party went extremely well! The bride had an amazing time and everyone loved the topless waiter! Chris was so great, he was extremely professional and he knew exactly what to do, even before I could ask him to grab a drink for someone or answer the door he was there! He really made the night! If anyone wants a reference or review of Helpful Hunks I am happy for you to pass them my email. Thanks!"
–Sara J
"I would just like to pass on my compliments to you and your team especially Chris. He was not only a true gentlemen all night, but really made our night. The older ladies of the hens party were originally concerned about hiring a topless waiter but now they are truly recommending this service and this should be a credit to Chris"
–Mini L
"I would just like to pass on my compliments to you and your team especially Chris. He was not only a true gentlemen all night, but really made our night. The older ladies of the hens party were originally concerned about hiring a topless waiter but now they are truly recommending this service and this should be a credit to Chris"
–Mini L
"Just a very brief note for now, to let you know how happy we were with Michael, he was the greatest he was relaxed, very easy to talk to, included all the girls and we really couldn't have asked for a better topless waiter for our hens party. I will sit down and write a great big thank you and a huge THANK YOU for Michael, when things settle down here a little and I will also send you some photo's as soon as I collect them all from all the girls. HE WAS A FANTASTIC GUY……and Karina couldn't have said enough about him today, especially his very easy going personality and what a lot of fun and how he was such a nice person. Again Many, Many Thanks, and we will surely pass the message around about your topless waiters. Great service and communication by you all the way through and Michael's telephone contact prior to the night. Regards, Barbara"
–Barbara M
"I just wanted to let you know, that our helpful hunk topless waiter Nick or nearly naked Nick as he was nicknamed on the night was fabulous. It was definetelly the highlight of the night. Everyone is still talking about what a fabulous night they had and how great Nick was. He was extremely professional and really fun and outgoing. Me and the other bridesmaids want to organise another hens night, just so we can get Nick to come along as our topless waiter again. I will def be recommending your topless waiter services to other hens night organizers. Thanks. Kind Regards. Lisa"
–Lisa W
"I'm so glad I discovered Helpful Hunks, because we all had a fantastic hens' night with our topless waiter Mickey! He was the life of the party! and he made sure he got involved in all of our party activities. The girls all loved him, and we'll definitely make sure we get some more helpful hunks for our next girls night out. Please pass on our thanks to Mickey. He was awesome!"
–Michelle P
"Paula enjoyed her hen's very much and was surprised with the inclusion of a Helpful Hunk topless waiter. We would all like to pass on what a wonderful job James did, it wouldn't be easy around a group of intoxicated girls!! He was polite and a real sweetheart, who was happy to run around refilling drinks and trotting up and down stairs cleaning away trays. Please pass on our thanks to James as he was part of making the evening special for Paula.
Regards, Larissa."
–Larissa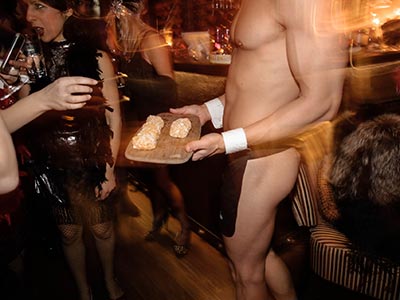 "Hi Chris, The party was an excellent night! We all pulled up well which was a surprise.
Adam was fantastic he was friendly and very on the ball for what needed doing. He participated in the games and was a great help thank you so much your the service he provided
Warm regards , Darcy"
–Darcy A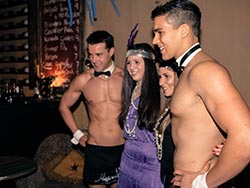 "Hi Chris,
Everybody had a blast and Mitch was great. At least 3 of the girls at the party have been making excuses to use your service again. Going to work on Monday was an absolute struggle! But it was worth it! Thanks again for everything.
Regards, Nancy"
–Nancy D
"I just wanted to pass on a big thank you to Max & Dean who entertained at my sisters Hen's Night. The guys were charming, easy to talk to & we couldn't have asked for better waiters for our hens party. The bride couldn't have been more surprised to be greeted by the guys on the night when she arrived & the girls could not have been more impressed. The guys were extremely professional, fun and outgoing. Me and the other bridesmaids have already spoken about organising another hens night, just so we can have the guys as our waiters again. They participated in the games & were always there to refill drinks before they were requested. We will definitely be recommending your topless waiter services to everyone. Thanks again to Max & Dean for making my sisters night & everyone else's so much fun.
Kind Regards, Michelle"
–Michelle L
"Hi Chris here are a couple of photos from Saturday! Thank you so much for sending Jesse he was amazing so helpful and a gorgeous guy the girls all loved him!!
Thanks again, Melanie"
–Mel G
"Hi Chris, Just wanted to let you know and if you could pass it on to Adrian, how Fabulous he was on Saturday night! He was very professional, and obliging, and all the girls had a wonderful night in his company! We really appreciate the fantastic night we had with him, and the hen had a ball!
Kind regards"
–Angela